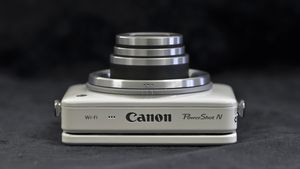 The Canon N has the 1/2.3-inch 12.1MP back-illuminated CMOS sensor and DIGIC 5 processor, so the N should be capable of taking better images than the average smartphone. And the PowerShot N has Wi-Fi technology built-in so that it can be connected to a computer or a smartphone to enable you to share images quickly.
Perhaps the most noticeable thing about Canon N is that it's almost square rather than rectangular. It also has a 2.7-inch tilting LCD screen that is touch sensitive. This capacitive device enables you to take control over key features such as the focus point and trip the shutter with a touch of the screen, and we found that it's nice and responsive.
There are two rings around the lens. The first is used to zoom from one focal length to another – no great surprises there – but the other is the shutter release, and pushing it up or down trips the shutter. It takes a few moments to get used to it, but it means that the camera can be fired from a range of angles because you can always reach the shutter release.
As most setting selections are made via the touchscreen, there are only three buttons and one switch on the Canon N. One button turns the camera on and off, another switches to playback mode, while the third is the One Touch Wi-Fi button mentioned earlier.
The technology inside the Canon N, including the sensor, has all been used elsewhere in Canon's compact camera range.
The Canon N will be available from early April, and is set to retail for around £269 in the UK (around AU$412) and $299.99 in the US.
Tips: Make Image Slideshow with Kvisoft Photo Slideshow Creator