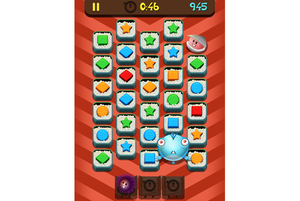 Sushi Mushi has been released for iOS gamers. It combines a love of sushi with a love of mobile gaming. After you play it in a few rounds, you'll find that Sushi Mushi isn't a hard game but it's fun.
Sushi Mushi is a fast-paced timed puzzle game where you, an adorable monster character of your choosing, challenge your opponent, an adorable monster of the game's choosing, to a competition of matching up sushi rolls. You can either challenge a random opponent or can invite your friends through Facebook or your contact list. It's a cute and novel spin on the classic match-the-tiles type of game.
Each match consists of three 90-second rounds fought against your opponent where whoever has the most total points wins. You have one relatively simple task: match up the sushi to earn points. You can match up the rolls by two different ways, by color or, if you're looking for a slightly more difficult way, by shapes. The total points add up and eventually you'll earn your achievements and promotions for your little monsters, which start off with a white belt and then advance all the way to the rank of black belt.
In fact, there is some strategy to play it. In no time you'll be foregoing the easy three-piece matches for the more challenging, and rewarding, 17-piece tsunamis. And although you'll hate to admit it, when the in-game music switches to its "time is almost up" tune, your eyes and finger will be left darting across the screen in hopes of finding those remaining matching raw fish.
Tips: How to play MKV on iPad