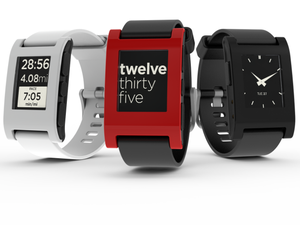 Now Samsung is working on a high-tech watch which will full of smartphone features. Obviously, it is a challenge for Apple iWatch again. Though there are a lot of discussions about smartwhatches, more people expect it will become true in the future.
Samsung tried again a decade later with the S9110, a much more svelte design that had nearly three times the talk time of the SPH-WP10, but still cost more than $600. Surprisingly, it never made it to the U.S., and was only available in France. Samsung's belief that the domestic handset market was "nearly saturated" was off too. That market was disrupted by the advent of smartphones, a market that's grown so fast, and so large, that it overtook feature phones in worldwide sales in the fourth quarter of 2012, according to IDC.
Samsung clearly understood this concept and decided to act instead of wait: Even though last year's Apple lawsuit set the Korea-based company back $1 billion, that cost is merely a slap on the wrist for Samsung compared to how much money it makes each year from smartphone sales alone.By taking a similar -- if not identical -- approach to Apple, Samsung is proving its competitive fire is red-hot, but it is also proving something else: Samsung can't come up with good ideas of its own, and it is perfectly OK with that.
If Apple released the iWatch unopposed, it would surely be a best-seller in the same way the iPhone was, but, with a similar watch coming from Samsung, Apple will need to be on its game to ensure dominance in the new marketplace.
I like the word: In this digital age, it's not just about who does it first--it's about who does it best. Tips: Play videos on iWatch/Smartwatch